Kahl Schwerlast and Pieper Schwertransporte deployed Goldhofer trailers to move six heat exchangers from their assembly plant to the port of Haren, Germany.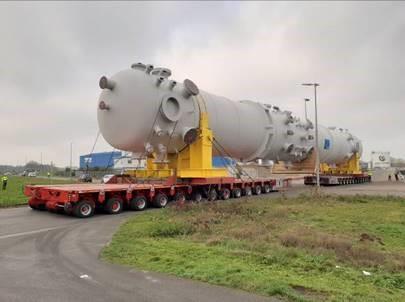 The units were destined for two gas liquefaction plants in Russia. Over a period of several months, individual components had been transported from various production facilities to Barlage's site in Haren, where the final assembly took place.
The shipment comprised two coolers that weighed 658 tons (596.9 tonnes) and measured 46.3 m x 6.2 m x 7.3 m; two 429-ton (389.2-tonne) coolers that measured 29 m x 5.6 m x 7.5 m; and two coolers, which weighed 466 tons (422.7 tonnes) and measured 32.3 m x 6.4 m x 7 m.
Once fully assembled, Kahl Group transported the heat exchangers to the quayside – a distance of approximately 800 m.
For the heaviest units, the team deployed Goldhofer PST/SL-E heavy-duty modules in a 2 x 12 configuration. The equipment included a P 1+1/2 split combination, where one of the modules was divided lengthwise and coupled parallel to a second full module. This, according to Goldhofer, offered better stability than a single-width transporter and required less space for manoeuvring than a double-width P 1+1 combination.
Goldhofer said: "With the 658-ton load lashed onto the two one-and-a-half width self-propelled transporter combinations, it was quite a feat to negotiate the three 90-degree bends with a total train length of more than 50 m and a load width of 6.43 m."
The trailer manufacturer added that with electronic steering on all axles and travel speed reduced to "snail's pace", the experts successfully guided the unit through all the narrow sections of the route.