Portugese heavy transport specialist Laso Transportes is handling wind turbine components for a wind farm in Barão de São João.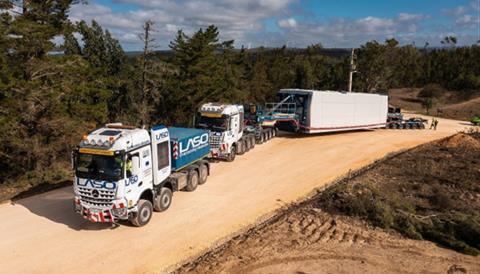 The project requires the transport of multiple components: the tower sections originate from GRI Renewable Industries' facilities in Carballiño, Spain; and the blades, nacelles, power trains and hubs are being transported from the port of Aveiro.
For transportation of the blades, which measure up to 82 m long, Laso is utilising its Goldhofer FTV 850 trailer. "Even the latest generation of rotor blades, requiring a lifting torque of up to 850 tonnes, can be picked up and transported with full flexibility [when using the FTV 850] in the towed or self-propelled mode," said Laso.
Laso's Nooteboom Mega Windmill Transporter (MWT) with the lift adapter (Liftad) 100 is also being deployed for the project, handling the larger tower sections and the nacelles.
The Liftad has a maximum lifting capacity of 100 tons (90.72 tonnes), depending on the dimensions of the component. It is possible to raise the cargo up to around 1.5 m above the ground, allowing the vehicle to drive over obstructions such as a roundabout or crash barrier.