Equipment rental provider LGH has supplied below the hook rigging equipment to support the lifting operations of a large ramp for a Navy vessel in New Jersey, USA.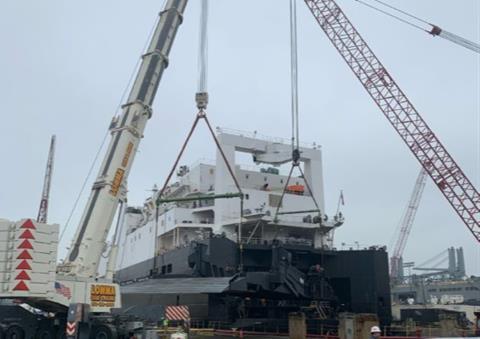 Lomma Crane, a New Jersey-based provider of cranes, collaborated with Bayonne Drydock for the project. Initial engineering plans did not account for the presence of a walkway and platform above the rigging location, which meant Lomma Crane had to adjust the lifting approach with the help of LGH and Stroh Engineering.
To ensure optimal rigging equipment selection, LGH representative Pete Fortunes actively participated in the decision-making process. Lomma Crane deployed a 750-ton (680.4-tonne) Manitowoc crane and a 600-ton (544.3-tonne) Terex unit, along with two MOD110 spreader beams and two hand chain hoists from LGH.
The work involved lifting the ramp and placing it on blocking for repair.