Mammoet has loaded out and installed a 19,600-tonne offshore platform as part of the Azeri Central East (ACE) project, the next phase of the bp-operated Azeri-Chirag-Deepwater Gunashli (ACG) field in the Caspian Sea.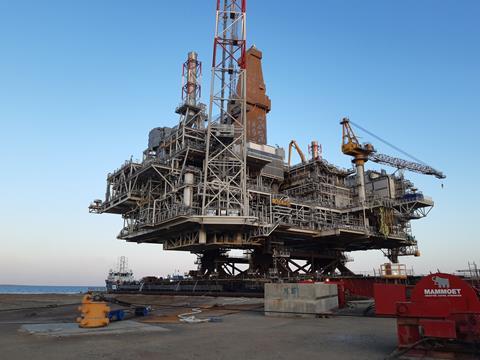 The project scope included the weighing, jack-up, load-out and floatover installation operations of the production, drilling, and quarters (PDQ) platform. The platform's topside unit was transferred from the quayside onto a barge and subsequently onto the jacket foundation offshore.
At the quayside, the topside was jacked up to a height of 17 m and then lowered onto a custom loadout support frame, utilising Mammoet's largest jacking system the Mega Jack 5200.
The unit was then skidded onto the barge, where it was sea-fastened and prepared for its voyage to the ACG field. The skidding operation onto the barge's deck was accomplished using four 900-tonne strand jacks, break-out jacks, a high-capacity ballast system, load monitoring quay jacks comprising of six 600-tonne jacks, and mooring winches.

Upon its arrival at the designated field location, Mammoet installed the topside unit onto the jacket foundation in a floatover operation.

Last year, Mammoet delivered heavy and oversized modules for the ACE project – the modular drilling support module (MDSM) and a drilling equipment set (DES) for the PDQ platform.