Mammoet has completed the assembly of its PTC210-DS ring crane, one of the largest in its fleet, in Rotterdam for a heavy lift project for GustoMSC.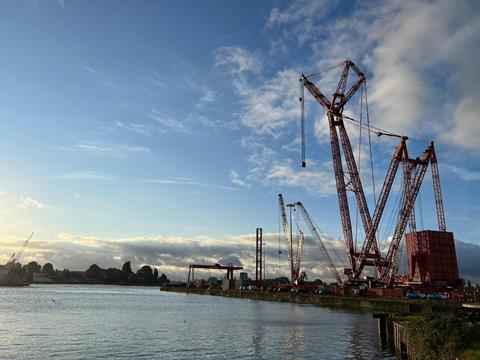 The 210,000 tonne-metre crane, which has a maximum lift capacity of 3,200 tonnes, will be used to perform crane replacements on two installation jack-up vessels (Wind Orca and Wind Osprey) for the offshore specialist Cadeler.
Erected at Mammoet's yard in Schiedam, the PTC210-DS is one of the largest cranes in the world. Dirk Knoester, senior adviser at Mammoet, said: "The PTC210-DS is the perfect crane for this job. It has a relatively small footprint combined with 360-degree slewing, and the possibility to switch between fixed and luffing jib mode (as only the PTCs can) resulting in the largest possible working area.
"These PTC cranes can also be assembled in numerous configurations and thus a tailor-made configuration is feasible for any job: different main boom and jib lengths, fixed or luffing jib, different amounts of counterweight, and two ring diameters."
The crane will be used to remove the existing leg cranes from both jack-up vessels and replace them with new GustoMSC high-capacity ones. The new leg cranes are fully electric driven and have a 1,600-tonne lifting capacity, making them ready to install and service next-generation wind turbines with capacity ratings exceeding 14 MW.
Remco Zandstra, senior commercial manager at Mammoet, said: "The decision to have the PTC210-DS constructed in our own yard in Schiedam was driven by safety and optimising the schedule for our client. Our yard has a unique location in the port of Rotterdam, and this gave us the possibility to position the crane between the two vessels and serve them at the same time. Not only does this save considerable time, by minimising movements of cranes in the yard and vessels along the quay, it also creates the safest possible solution to perform this project."
The replacement work on Wind Orca and Wind Osprey is scheduled to commence in Q3 2023 and is expected to be completed by the first quarter of next year.