Mammoet has delivered heavy and oversized modules for the Azeri Central East (ACE) project – the latest phase of development of the Azeri-Chirag-Deepwater Gunashli (ACG) field, which is located in the Azerbaijani sector of the Caspian sea and operated by bp.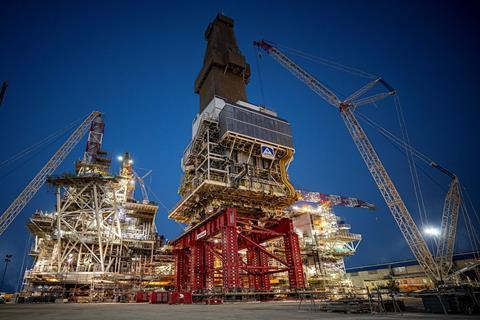 Two modules – a modular drilling support module (MDSM) and a drilling equipment set (DES) – were required for the construction of the project's production, drilling and quarters (PDQ) platform. They were prefabricated by Azfen JV, a joint venture between Turkish EPC Tekfen and the State Oil Company of Azerbaijan (SOCAR), at its yard near Baku.
Planning for the integration began prior to fabrication in 2019, when Mammoet was tasked to perform the detailed engineering study for the integration of the modules, covering all requirements for the heavy lift operations, movement and stability calculations and risk assessments. In 2022, it was selected to perform the physical integration.
The scope included the weighing, transport, jacking and skidding operations for the 2,400-tonne DES module, which was 32 m long, 22 m wide and 80 m high, as well as the 2,350-tonne MDSM module, which measured 43 m long, 20 m wide and 20 m high.
The integration started with weighing of the MDSM module. Next, it was jacked up using Mammoet's Mega Jack 800 system, so that two modular jacking beams could be moved underneath it. A heavy skidding system, comprising six 800-tonne skid shoes and a skid track, was then installed on top of the beams. This whole combination was then positioned onto 120 axle lines of SPMTs, so it could be moved 100 m across the site.
The combination was then placed above the Mega Jack 800, which was preinstalled beside the platform. The combination was then jacked-up to a height of 15 m, before the MDSM was skidded onto the platform.
An additional set of skidding equipment was then used to skid the module in a transverse direction, towards its final position. The module was then transferred onto hydraulic jacks for final set down. Once the operation was completed, the team returned to repeat the process with the DES module.