Mammoet has secured a contract for the transport and installation of components for Saudi Aramco's Hawiyah Unayzah gas reservoir storage (HUGRS) project.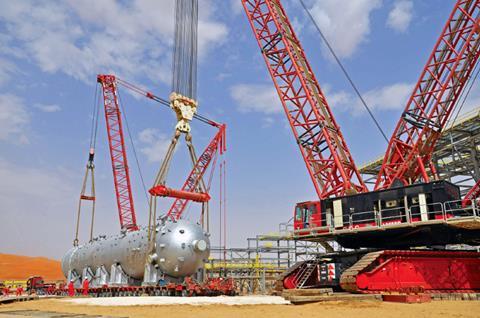 EPC contractor Samsung Engineering awarded Mammoet's Saudi Arabian branch the contract. The project includes construction of a gas injection facility with booster and injection compressors, a gas reproduction facility with reproduction compressors and slug catchers, as well as various utilities and offsite facilities.
Over 60 components will be received either at King Fahad Industrial Port in Jubail or at a fabrication facility in Dammam and transported to the site for installation. The heaviest components include four slug catchers, which weigh over 400 tonnes each.
Mammoet's project scope includes associated port handling and Customs clearance activities, obtaining permits, and close collaboration with local traffic authorities to facilitate the project's transport phase. Over 200 lifts are expected to take place throughout the 17-month project.
The facility is expected to be completed in 2023 and will enable Saudi Aramco to manage surplus gas volumes to meet seasonal demand, according to Mammoet.