Mammoet has transported more than 480 items 6 km from a small port in Police, Poland, to the construction site of a chemical plant.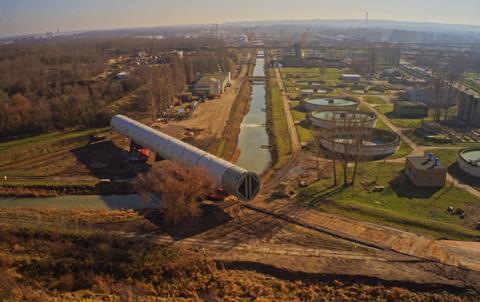 Polish company Grupa Azoty contracted Mammoet for the scope of work, which will support the construction of the propane dehydrogenation and polypropylene (PDH/PP) blocks of the chemical facility.
The cargoes transported by Mammoet included five heavy items weighing between 600 and 800 tonnes, and a 900-tonne a polypropylene splitter.
Mammoet said that despite the journey only being 6 km from the port to the construction site, the size and weight of the components presented challenges.
As sections of the transport took place on public roads, Mammoet ensured all the permits were in place and that the route was capable of handling the large weight of the components. In quite a few areas, it was necessary to make modifications.
Some of the works included the construction of a ro-ro ramp and bypasses, the widening of roads, the movement of electrical wires underground, and the removal and eventual replacement of lampposts.
Additionally, a bridge capable of accommodating up to 650 tonnes had to built to allow the crossing of a 20 m-wide channel.
Jakub Walasek, branch manager at Mammoet Poland, said: "There is a lot of preparation and precision that goes into a project like this and building a bridge is no small task."
Mammoet's team in Poland was assisted by colleagues from the Netherlands, Germany, Belgium and the UK.
The next phase of the project – expected to begin later in 2021, will see Mammoet assist with the installation works.