Mammoet has removed two steam converters, weighing approximately 155 tonnes each, from the control area of the Lingen nuclear power plant in Germany.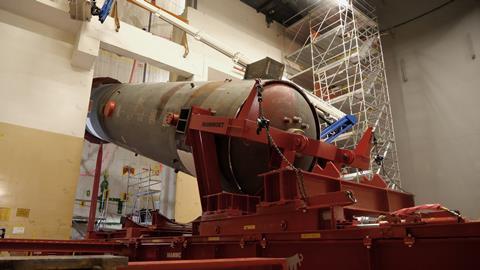 The plant is in the process of being decommissioned. The steam converters needed to be moved vertically and then repositioned horizontally, ready to be lifted from the building onto waiting transportation.
In all, Mammoet's engineering team spent only a few weeks forming a combined lifting and transport solution with strand jacks designed specifically for this working environment. "Our extensive experience from decommissioning projects enabled us to involve swiftly in the ongoing decommissioning process and develop a safe solution in a relatively short time," explained Dr. Sören Müller, team leader, nuclear and logistics at Mammoet Germany.
Due to radiation protection requirements onsite, the entire tooling, equipment and 100 tonnes of fabricated steelwork had to pass special radiation checks before being brought into the control area. This time, factors had to be taken into account during the planning stages so that the overall deadline could be met.
Prior to execution, all core components including the support strap, temporary lifting device and the skidding beam for the transverse skidding operation were subjected to a thorough load test. After successful acceptance by the authorities, work could begin in the control area.
The first phase saw each converter jacked up with hydraulic climbing jacks and moved laterally. Once a support strap was attached, they were pushed out of the housing using a skidding device and placed onto a skidding track. Once horizontal, each unit was rotated by 90 degrees and lowered.
In this position, the large component could be removed from the control area to a gantry built several storeys high against the building exterior. After removal, the steam converter was lifted from this portal gantry in a tandem operation using a 1,200-tonne and a 750-tonne mobile crane, and loaded for transport on the power plant site.