Mammoet South Africa has transported the first of three multi-mission inshore patrol vessels (MMIPV) for the South African Navy.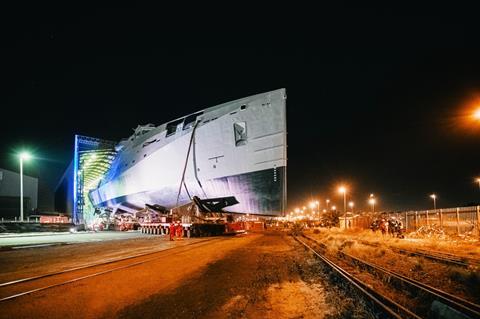 Damen Shipyards Cape Town (DSCT) contracted Mammoet to transport the 600-tonne vessel from the DSCT shipyard to the Transnet National Ports Authority's (TNPA) Victoria & Alfred (V&A) waterfront basin.
The vessel was jacked up using 150-tonne capacity jacks, then transported overnight using 48 axle lines of SPMTs.
Uzayr Karimulla, project manager at Mammoet South Africa, said that moving the vessel at night meant less impact on traffic, but the reduction in light came with its own challenges.
On arrival at the V&A basin, the craft was raised onto the port's synchrolift system. The project team waited for high tide to come in before the vessel out towards the Elliot Basin using tugs.
Mammoet said that the MMIPVs are built according to the patented Damen Axe Bow design, which ensures low resistance, sustained speed in waves, and superior sea keeping characteristics in the toughest conditions. The multi-mission deck is used for supporting diving, search and rescue and anti-piracy operations.