Mammoet has installed a 4,000-tonne bridge over the River Oker in Germany as part of the renewal of a railroad overpass in Goslar.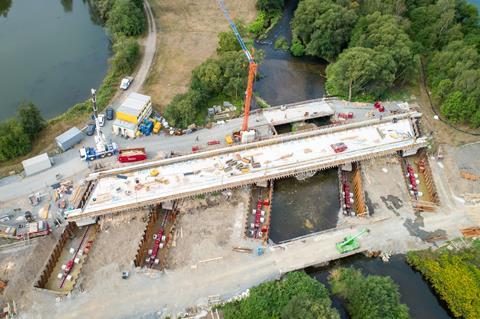 Construction company Echterhoff contracted Mammoet for the project. The work required the use of the computerised Novarka skid system, which was first developed for the installation of New Safe Confinement (NSC) over the reactor building of the Chernobyl nuclear power plant in Ukraine.
The new bridge structure was prefabricated 16 m from the installation site. Mammoet said its plan was to push the bridge into position as a complete structure, following the demolition of the existing bridge.
Five parallel pits were excavated to the side of the riverbed, in which the Novarka skid system, with a total of 15 skid shoes with an average capacity of 700 tons (635 tonnes) each, was installed.
Mammoet said that in order to move the bridge safely it was necessary to synchronise the skid shoes. The computer-controlled skidding system enabled this with the use of sensor technology.