Since departing the port of Qingdao, China, in early April, Chipolbrok's multipurpose vessel Parandowski has carried and delivered several shipments of heavy and breakbulk cargo.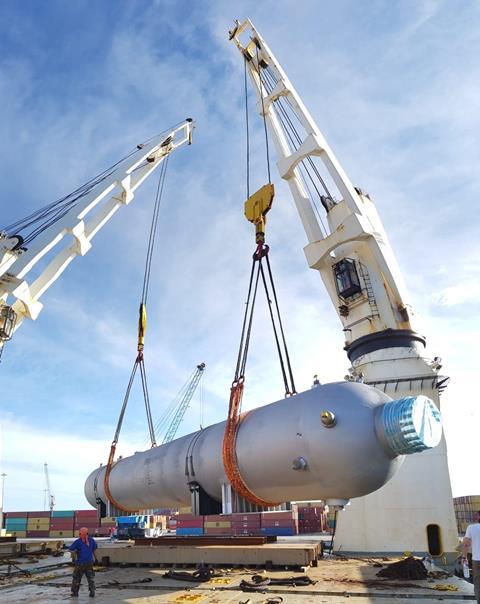 The service, bound for various ports in the USA via the Panama Canal, first made several stops in Europe. After calling at the port of Flushing in the Netherlands to load 5,050 tonnes of concentrates aboard, the ship moved on to Antwerp, Belgium, where a large shipment of steel products awaited the vessel.
The next port of call was Hamburg in Germany. Here, general cargo, heavy lifts and rolling stock were stowed onboard, including 37-tonne and 42.2-tonne casings destined for India, as well as 60-tonne cases and ship modules for a Singaporean shipyard. Unpacked units, which weighed 75-tonnes and 98-tonnes, were also lifted onto Parandowski and are now sailing to Shanghai.
The vessel proceeded to Brindisi, Italy, to load a 62.5-tonne scrubber that measured 19 m long. The unit took up approximately 1,030 cu m of space underdeck. In the port of Marghera, cargoes weighing 480-tonnes and 255-tonnes were loaded onboard the multipurpose vessel.
Parandowski is not the only Chipolbrok vessel keeping busy at present – Chipolbrok Galaxy has completed a port rotation between Gdynia (Poland), Uddevalla (Sweden) and Klaipeda (Lithuania) to deliver wind energy equipment and industrial components.
The eastbound voyage started in Pori, Finland and the ship headed to Ronnskär in Sweden to load a breakbulk shipment comprising 14,500 tonnes of non-ferrous metals. In Hamburg, 2,900 tonnes of cargo was loaded onto Chipolbrok Galaxy including steel, track building machines weighing up to 70 tonnes, 77-tonne propellers, and drilling equipment, which tipped the scales at 45 tonnes and at 44.5 m long were placed on deck over two hatches.
Completing the eastbound loading ports was Antwerp. Here, steel products and heavy pieces were loaded onboard the multipurpose ship before it continued on to the Mediterranean Sea on its way to the Suez Canal. Chipolbrok Galaxy will soon call in Mumbai (India), Singapore, Laem Chabang (Thailand), Kaohsiung (Taiwan), Shanghai (China) and Busan (South Korea).