Omega Morgan overcame roadblocks to deliver wind turbine components for a project in Alberta, Canada.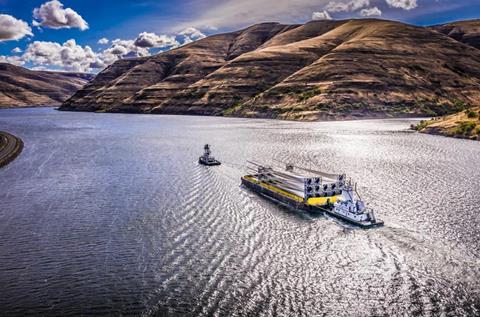 With multiple wind energy projects taking place at the same time in the region, all relying on the same route, the renewable energy company was facing massive trucking delays and a guarantee of missing its scheduled deadline. Omega Morgan's Portland-based specialised transport, crane services, and millwright teams stepped up to the challenge to develop a solution that would bypass the route – and delays – completely.
The alternative solution involved barging the components to the port of Lewiston – avoiding trucking on the heavily congested Oregon and Washington routes – and trucking them to the final destination in Alberta.
This meant developing an entirely new means of transportation for components coming into the Pacific Northwest, said Omega Morgan. It was a massive coordination effort, involving scheduling and communicating with all of the parties involved. Since shipments were coming into the port of Lewiston from both the port of Longview and the port of Vancouver in Washington, Omega Morgan's crews secured and provided suitable equipment to transport, offload and store the components from the lower Columbia River to the port of Lewiston.
All in all, there were 12 voyages that headed up river.
After the components arrived at the port of Lewiston, they were offloaded from the barge and shuttled to a laydown area. Omega Morgan's crane services team used two 220-tonne capacity crawler cranes to offload the components, and two 110-tonne capacity crawler cranes to offload and stage the components at the wind distribution centre.