USA-headquartered transport engineering specialist Omega Morgan has moved 82 large wind energy components from the port of Vancouver (USA) to Arlington, Oregon.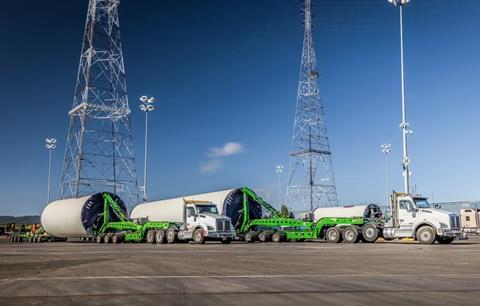 The 82 wind energy components comprised 41 tower bases and 41 tower midsections. Because of the components' high weights, the company's first task involved submitting superload permit requests for Washington and Oregon, which take about 30 days to receive.
A large-scale paving project outside the port created logistical challenges as the loads needed to be scheduled around the paving works. Furthermore, the components' arrival at the port had been delayed, further restricting the timeframe for delivery. However, the company's project manager continually updated the superload applications and the team was ready to roll when cargoes arrived.
With assistance from the port's crews, the specialised transportation team loaded the first wind components onto Aspen and Temisko double Schnabel trailers in mid-August, making the 140 mile (225 km) journey to Arlington. At any given time, two to three of the double Schnabel trailers were making the trip. On arrival, the team staged the trailers in position, and assisted with the multi-step offloading process.
All components were delivered in less than two months.