UK project logistics and transport engineering specialist Osprey Group has transported a low-pressure rotor, weighing 257 tonnes, for the steam turbine at Hinkley Point C in Somerset.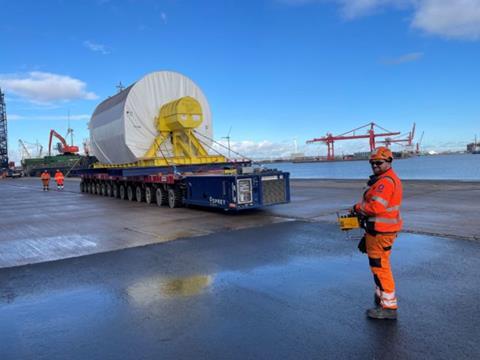 The rotor forms a critical part of the electrical power production equipment in the turbine hall. It measures 20 m long and consists of blades measuring 1.9 m. Osprey said that it is the heaviest abnormal indivisible load being delivered to the UK for the project so far.
It was manufactured in Belfort, France, by the GE team. Osprey's partners hauled the unit to Neuf-Brisach in the Alsace region of France, and then loaded it onto a barge for transportation down the Rhine to Rotterdam, where it was stored at GE's consolidation warehouse.
The Aasfjord coaster vessel was then deployed to transport the rotor, along with three condenser units, to Avonmouth.
Osprey used its LG1550 SLDB crane to unload all components onto SPMTs. They were then moved to a bespoke storage facility.