Robert Wynn and Sons has delivered two heavy shipments from Pembroke port to Valero's oil refinery in Pembrokeshire, Wales, onboard its heavy lift ro-ro barge Terra Marique.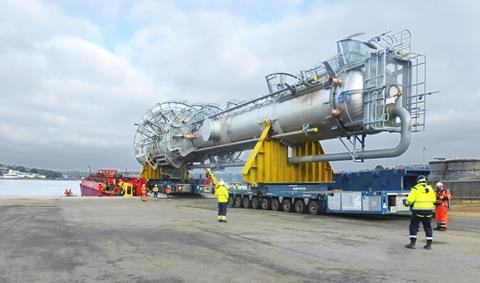 The first shipment comprised a depropaniser that measured 55 m x 10.2 m x 11.3 m and weighed 487 tonnes. The unit was loaded onto SPMTs – with 4 x 12 axle lines at one end and 4 x 10 axle lines at the other. The combined combination weighed 760 tonnes.
The second shipment, a 474-tonne acid settler, was carried on two 4 x 12 axle lines of SPMTs, bringing the collective weight to 765 tonnes. The equipment measured 38.2 m x 12.8 m x 13.5 m; onboard the trailers the unit was 15.6 m high and nearly 13 m wide.
Robert Wynn and Sons said the cargoes were some of the largest ever carried by the 80 m x 16.5 m specialist barge Terra Marique.
The cargoes, delivered on behalf of Sarens, were rolled onto Terra Marique within half an hour. The equipment was lashed and secured for the short voyage of 3.5 nautical miles to the barge berth at the refinery.
Offloading operations at the Valero berth were undertaken afloat with the Terra Marique's integral dual ballast system.
Andy Manners, general manager at Robert Wynn and Sons, said: "While the Terra Marique is purpose built for such operations, the weight and dimensions of the cargo, as well as the location of the offloading berth meant that detailed planning and collective working was required…
"Our engineers, crew and those from Sarens and Valero worked well together to ensure the project was delivered as planned."