RTL has transported 11 packages from the port of Constanta in Romania to Novocheboksarsk, Russia, for the construction of a hydrogen peroxide production plant.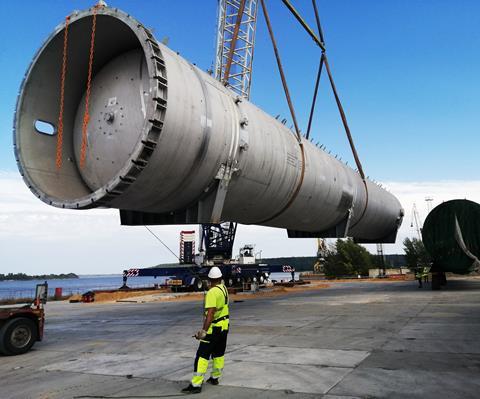 RTL delivered the cargoes, which totalled 170 tons (154.2 tonnes), for Volga Peroxide. The cargoes included oversized and heavy lift items, the heaviest of which was a column that tipped the scales at 63 tons (57.2 tonnes). The diameter of the widest unit was 5.9 m, while the longest was 34.5 m.
The shipment was transported to the port of Rostov-on-Don, Russia. They were then reloaded onto a barge for onward transport to Novocheboksarsk.
In Novocheboksarsk, RTL unloaded the cargoes at the consignee's plant-owned berth. A 550-ton (499-tonne) capacity crane was used with an outreach of 56 m. The operation took about 5 hours, said RTL.
Purpose-built vehicles were then used to transport the cargoes at night from the berth to the storage on the project site.