Sarens dismantled an existing Goliath gantry crane and replaced it with a larger unit in St. Nazaire, France.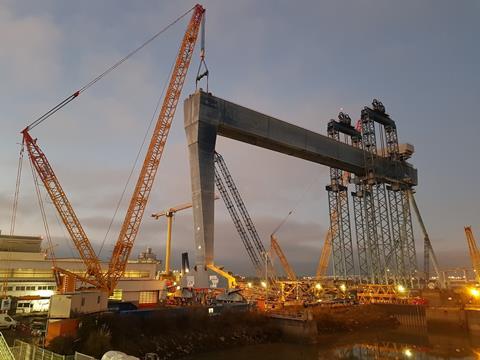 The latest Goliath crane spans 130 m over a dry dock and a ground-level construction area.
Sarens dismantled the old gantry crane using two CC 6800s fitted with a 96 m and 114 m boom respectively, in addition to a strand jack tower system. The freestanding tower arrangement was built up to a total height of 103 m from the floor of the dry dock using the SMLT 5800 and SMLT 3500 systems.
A beam system on top of the towers supported four 650-tonne strand jacks on a skid system, and a 'low' level skid system 20 m above the dry dock floor helped to move the Goliath's main girder out of the dock once lowered. Additionally, 152 axle lines of SPMTs were used to transfer the crane components to the laydown area.
Sarens said that the project was unique due to the solid tower systems (without guide wires) that was built to support the high-level skidding system and strand jacks, as well as the use of the second, lower-level skidding system for overtaking the load from the strand jacks and placing them onto the SPMTs. "Sarens' innovative and detailed engineering also called for the use of the underground reinforced concrete dock floor and supporting the hinged and fixed legs so they would remain vertical while lowering the main girder (horizontal beam)," the company added.
There was a short execution window for this project. The dock was emptied by the end of December 2021 and full operation had to be completed before the end of April to allow a new ship to leave the dock. It took one ship and over 400 trucks to mobilise the 6,000 tonnes of equipment to the project site, so that they were ready for when the new Goliath gantry crane parts arrived via barge and vessel from Poland in November.