Steil Kranarbeiten has used its fourth generation (G4) rotor blade adapter from Scheuerle, part of the TII Group, to transport blades measuring up to 79 m long in Germany.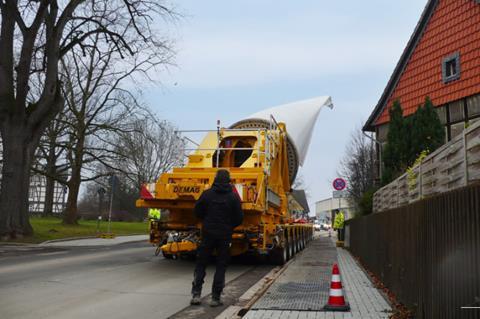 The 6 km route from the loading area near Cramme, east of Salzgitter, to the Flöthe wind farm involved several obstacles including narrow streets in towns and villages, low-hanging high-voltage lines and a number of roads with severe bends.
The blade adapter was used along with an InterCombi self-propelled vehicle combination consisting of two sets of six axle lines.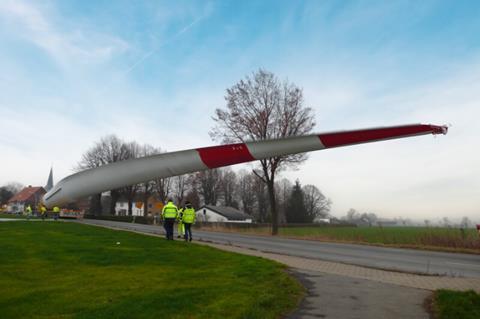 "The rotor blade adapter G4 made a significant contribution to accomplishing the task," said engineer Sebastian Sehl, company secretary at Steil Kranarbeiten and responsible for project management. It made it possible to swing the load over the houses along the town and village through-roads as well as over other obstacles such as road dividers.
"We had to erect the rotor blade, which weighs more than 20 tonnes, by up to 45 degrees in order to shorten the transport," added Sehl. "A high set-up angle is required in avenues and wooded areas. As a result, fewer branch cuts and tree fellings are necessary."
For this project, the angle required a load moment of 650 tonne metres. The maximum load moment of the G4 rotor blade adapter is 900 tonne metres, which could be used for a set-up angle of 60 degrees so that heavier or longer rotor blades can be transported.