Over the next four years, heavy lift and transport specialist Schmidbauer will move around 300 cable drums weighing up to 80 tonnes each at bayernhafen Regensburg for the SuedOstLink project.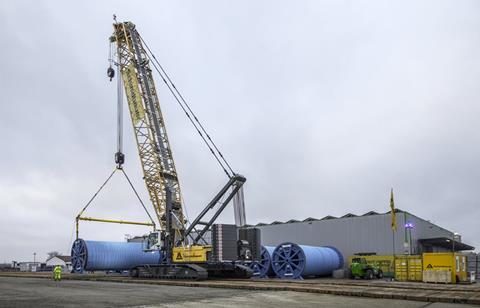 Since November 1, 2021, the specialist team has been handling the unloading of the ships transporting the giant weights on behalf of deugro. Schmidbauer is also responsible for storing the cable drums and other components such as fibre optic cables and joint accessories.
The SuedOstLink is an integral part of the energy transition and will ensure that the electricity produced from renewable sources in the north and northeast of Germany can be transported to the south by means of extra-high voltage direct current (HVDC) transmission. Project 5 of the SuedOstLink is around 540 km long and stretches from Wolmirstedt near Magdeburg in Saxony-Anhalt to the Isar grid interconnection point near Landshut in Bavaria. In Bavaria, TenneT is planning and building the line from Münchenreuth, in the district of Hof, to the grid connection point.
The cable drums are produced by the Italian company Prysmian on behalf of TenneT. Production of the cables has been underway in Gron near Paris, France, since the fall of 2021. From there they are transported by ship to the storage area in Regensburg. With the help of a 300-tonne capacity crawler crane, the cable drums are unloaded from the barge, then stored at the 25,000 sq m site.
Construction of the SuedOstLink is expected to begin in 2024.