The heavy load carrier Zhen-Hua 29 has arrived at DP World Berbera's facilities in Somalia loaded with three ship-to-shore (STS) gantry cranes.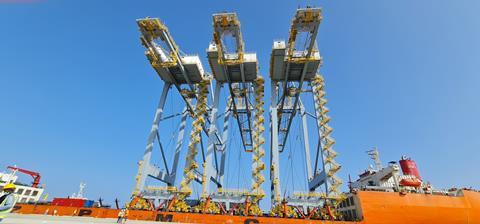 DP World Berbera's management and engineering team planned and handled the offloading operations of the 51 m-tall cranes. Each STS crane has a lifting capacity of 65 tonnes.
Moreover, eight rubber-tyred gantry cranes were delivered to the port in January 2021.
Suhail Albanna, ceo and managing director of DP World Middle East and Africa region, said: "The arrival of the new cranes is another key milestone in the development and expansion of Berbera port. These cranes, in addition to those already installed, will further improve operational efficiencies at Berbera port and transform it into a modern and world class facility, further strengthening it as a major regional trade port servicing the Horn of Africa."