Colombian special transport and lifting company Transportes Montejo showcased its expertise in the transport of wind energy components for a project in Loja Province, Ecuador.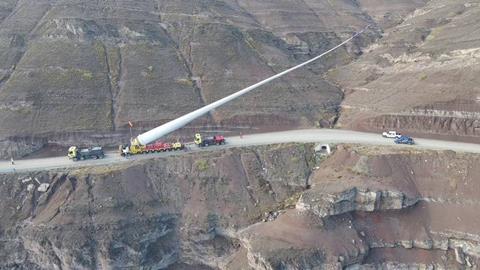 Elecaustro was commissioned to plan and build Ecuador's largest wind farm – the 50 MW Minas de Huascachaca project comprising 14 generators. It called on Transportes Montejo fleet of heavy transport equipment, which included a Goldhofer FTV 550 blade lifter.
The advantage of a blade lifter is that a blade can be freely rotated around its own axis in order to keep it out of the wind during transportation. Furthermore, the blade can be angled as required up to a maximum angle of 60° to pass over or under obstacles – minimising the need to make changes to roadside infrastructure.
In this project, the FTV 550 mounted on a Goldhofer THP/SL heavy-duty module was able to transport 73 m-long blades up a winding road to a plateau in the Andes mountains. The Transportes Montejo crew skillfully raised and turned the blades to avoid contact with the steep slopes as the combination made its way up to the pass.