Mexico-based Transportes Muciño has moved major components of the Tamazunchale II power plant from the port of Tampico to the construction site in San Luis Potosí.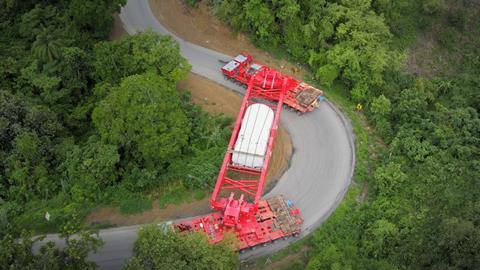 The project took place from March to May 2021 and saw Transportes Muciño handle a gas turbine, steam turbine and generator on behalf of Mitsubishi Power Americas.
The heaviest component was the 380-tonne generator that measured 10.2 m x 5.43 m x 5.41 m. Other components weighed up to 230 tonnes.
The route from the port had to overcome multiple obstacles, including 19 percent inclines, hairpin turns and narrow roads. Transportes Muciño relied on equipment from Goldhofer for the work, namely the manufacturer's heavy-duty modules and its Faktor 5 girder bridge.
The transport began with a 2x18 axle line Faktor 5 combination with one pushing and two towing trucks, supported by two ADDrive modules. At the city of Jaltocan, the team reconfigured the convoy to a 2x9-axle parallel combination, with four six-axle line ADDrive modules.
With detached tractors, the convoy traversed over 46 hairpin turns, even passing a 54-degree bend in Chapulhuacanito. After another reconfiguration to a 2x12 axle line parallel combination, the Muciño team made their way to the power plant. For the last mile to Tamazunchale II, the synchronised ADDrive modules were once again called upon to independently moved the convoy through a 19 percent decline to its final destination.
The difficult route also required six major bridge reinforcements. Some of the bridges had to be crossed without trucks in order to reduce the total weight and avoid long detours.