At the beginning of the year, German heavy transport specialist Universal Transport delivered a 40-tonne carriage from the port of Bückeburg into the city centre of Minden.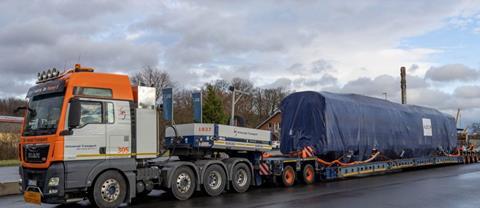 The carriage was produced in India and was shipped to the port of Antwerp in Belgium before being transported to the port of Bückeburg on an inland waterway vessel.
Even though the route to Minden from the port was only 20 km long, there were two obstacles that the Universal Transport team had to overcome: the first was a bridge that required a lower trailer from the company's fleet and then the narrow entrance to the cargo's destination, which could only be passed with a significantly shorter semi low-loader.
This meant the cargo had to switch between two trailers along the route; two mobile cranes lifted the carriage off a 41 m-long tank bridge onto a 31 m-long special semi low-loader in order to master the last few metres of the journey.
In Minden, the carriage was put through its paces in a special climate chamber and will be shipped back to India for use in the Indian market.