In partnership with Chapman Freeborn, Volga-Dnepr delivered humanitarian cargo to the Moria refugee camp on the island of Lesbos in Greece following a fire that destroyed most of the camp.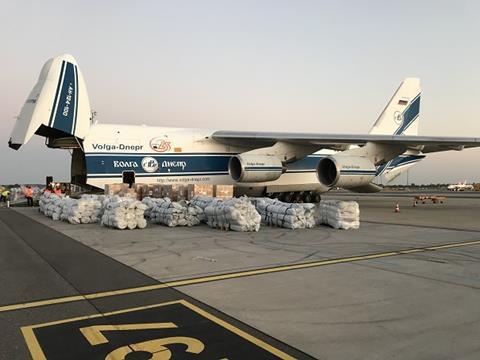 Volga-Dnepr's AN-124-100 flew from Vienna in Austria to Athens, Greece, with 55 tons (49.9 tonnes) of humanitarian cargo onboard.
Volga-Dnepr said the cargo should provide essentials to over 12,000 refugees left without shelter in the wake of the fire.
Ekaterina Andreeva, commercial director at Volga-Dnepr, said: "With aligned procedures in place and well-tuned teamwork, we managed to get flight approvals within three days, operate the flight without delay with fast and flawless loading/offloading of cargo."