Wagenborg Nedlift has delivered ten transformer cabins from Mioteq's production site in Bedum to the Vierverlaten high-voltage substation in the Netherlands.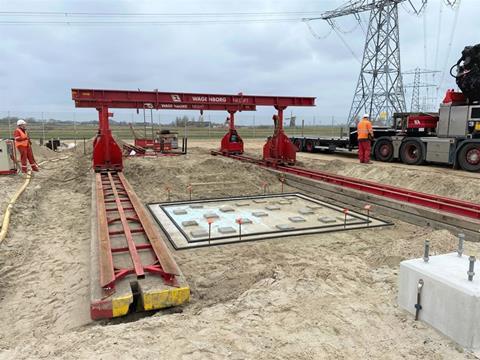 An expansion of the substation will see six transformers installed at the site later this year; the cabins will house all the control technology.
Each cabin measured 4.6 m wide and 3.8 high, and weighed 48 tonnes. To move the units, a special low-loader was deployed. Once at the site, nine of the cabins were unloaded and placed onto their foundations using a mobile crane.
The tenth unit was more challenging, said Wagenborg Nedlift. The location for this cabin was under a high-voltage line, which meant it was not possible to use a mobile crane. The company therefore utilised jacking and skidding technology, along with a lifting gantry, to manoeuvre the cabin into place.
Using climbing jacks, the cabin was raised so that the low-loader could be moved away, after which it was lowered to the height at which the lifting gantry could take over. From there it went slowly sideways towards the foundation. When it arrived at the right position, the cabin was placed onto the foundation with millimetre precision.
While Wagenborg Nedlift's fleet already consists of jacking and skidding technology, the company recently boosted its roster with a computer-controlled jacking system that consists of four climbing jack boxes, each with a 600-tonne capacity. With the new system, objects of up to 2,400 tonnes can be lifted and lowered.
Wagenborg Engineering was responsible for the development and construction of the new jacking system, which is equipped with enhanced technical features including built-in displacement measurement and pressure sensors, and an automatic hydraulic control valve.
The jacking system is designed for the use of bamboo jacking beams. Wagenborg Nedlift said that fewer beams are needed for each 'stroke' than was previously the case, which reduces the number of actions and thus the physical strain on employees.
The jacks are controlled by multifunctional hydraulic power packs that are driven by electric motors.