Crane service provider Wiesbauer has transported and lifted a tank for the Besigheim waste-water treatment plant in Germany.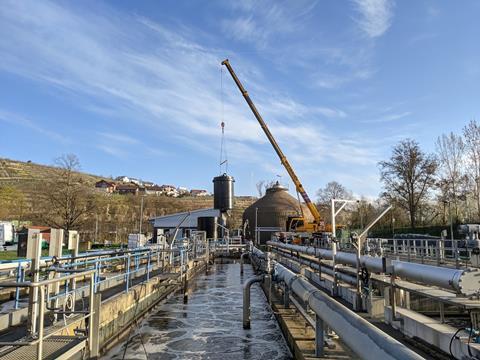 Wiesbauer deployed a 40-tonne lifting capacity Tadano HK 40 truck-mounted crane to carry out the lifting work on behalf of Conaqua Wassertechnik.
While the tank only weighed around 3 tonnes, it measured 5 m high and had a diameter of 3 m. To manoeuvre the component, Wiesbauer also had to contend with spatial restrictions at the site.
The tank was lifted with a reach of 15 m. Crane driver Silvia Flinspach said: "The HK 40 is one of the strongest cranes in its class, so lifting a tank like this and its accompanying tray is simply par for the course. And thanks to the intuitive and sensitive controls, positioning the load with centimetre precision was no problem either."