Colorado's Manitou and Pikes Peak Cog Railway has undergone extensive upgrades and will soon welcome back its first visitors in three years. Forwarder Fracht has been tasked with transporting rail equipment to support the reopening and enlisted the help of WW Ocean's regular ro-ro services.
As part of the upgrade programme, three cog trains were manufactured by Stadler in Switzerland; Fracht is coordinating the delivery of 13 pieces of equipment from Europe to the USA, including locomotives and railcars, across three shipments.
The cargoes were transported from Switzerland by barge to WW Ocean's terminal at the port of Zeebrugge in Belgium. Delivered on wooden stanchions, each train was loaded onto standard 40 ft (12.2 m)and 62 ft (18.9 m) rolltrailers and wheeled onto WW Ocean's ro-ro vessel where they were stowed under deck to protect against the elements for the duration of the sea voyage.
Daniel Steiner, from Fracht Basel, explained: "WW Ocean's regular sailings and guaranteed departure dates, as well as the short transit time from Zeebrugge to the port of Galveston (USA), gave us the confidence the products would be delivered on schedule."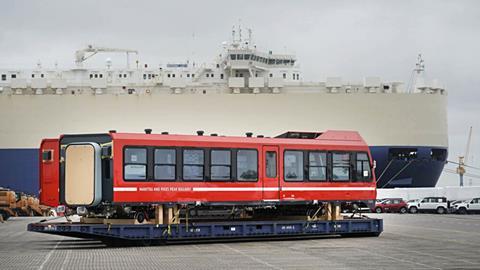 Wallenius Wilhelmsen sales representation Patrick Mead added: "Being in the middle of the country, there is no port in Colorado, which is why our regular service from Zeebrugge to the port of Galveston offers a stable solution." The US port also provides extensive inland transportation options, making on-carriage to the final destination easier, said WW Ocean.
The first two consignments have already arrived in Colorado, and the last shipment is expected to arrive at the end of April.