Sarens customised gantry system smoothly installs pre-cast ceiling panels at Finch West station in Toronto, Ontario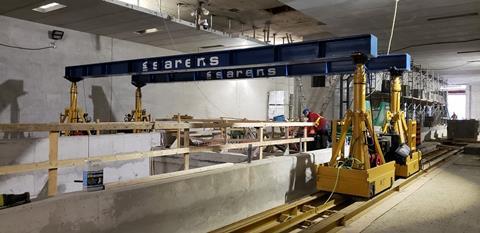 Mosaic Transit had to install 30 pre-cast ceiling panels in an extremely confined space and one level below the ground, accessible only through a small skylight at the Finch West Station in Toronto, Ontario.
Mosiac asked Sarens, the specialist in heavy lifting solutions, to install the challenging ceiling panels. The panels had to be installed below the ground level. There were two major roads intersecting above the ground with moving traffic throughout the day, further adding to the challenge. Only two small fenced-off areas provided access to the underground area for the project execution. The team had to install 30 pre-cast ceiling panels weighing 3.25T each and measuring 4mx0.3mx1m.
Sarens rose up to the challenge and our engineering team designed and fabricated customised - gantry beams, platform between the gantry beams, and sliding supports for the project. The gantry system was selected with a low-profile gantry track and gantry legs with lower height to work in the limited space. The equipment was mobilised from Sarens depot in Cambridge, Ontario.
The gantry track and gantry legs were moved through the east-end of the site and lowered to the underground level through west skylight. The gantry beams, platform beams, and skidding supports were later lowered through the east skylight. The main 10m long gantry beams had to be rigged on a steep angle to fit through the narrow skylight. Below the ground level, the beams were set across the concrete then re-rigged level to install on the gantry.
The panels were first lowered by a crane though the skylight opening and set on top of the gantry. The gantry then travelled west to east. The panels were slid along the beams from north to south and lifted to the required position and installed safely.
The client was very satisfied with our performance and special congratulations to our team of engineers and operators for successfully completing the project.

Sarens' mission is to be the reference point in crane rental services, heavy lifting, and engineered transport. With state of the art equipment and value engineering, the company offers creative and intelligent solutions to today's heavy lifting and engineered transport challenges. With more than 100 entities in 65 countries operating without borders, Sarens handles small-scale to mega-scale projects. It currently employs 4,452 professionals. Safety and excellence are key drivers for Sarens and the company strives daily to establish a safe space for everyone and everything related to its operations. Sarens has been the market leader for over 60 years; over four Sarens family generations are intimately involved in the business. Sarens continues to build the future on the foundations of its rich past and ensures that its clients will always stay ahead of the game when it comes to heavy lifting and engineered transport innovation.