Sarens transports ten quay cranes within a strict timeline in the Netherlands.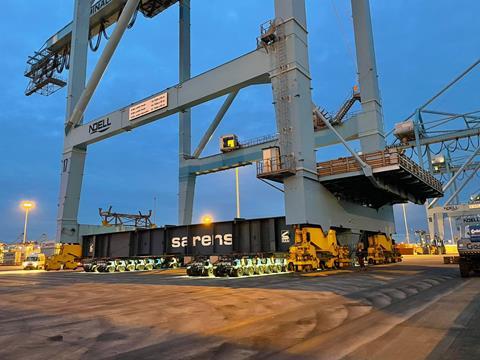 Sarens was asked by Hutchison Ports ECT Rotterdam to move five quay cranes. The original operation was planned for 20 days. During execution the client asked if Sarens could reposition five additional cranes in five extra days. Sarens rose up to the challenge, teamed up with ECT and successfully moved ten quay cranes.
Sarens shortlisted 80 axle-lines of Kamag K2400ST and MB3000x1500 with cantilever beams. The beams are designed in-house to particularly transport quay cranes. Each crane was 95m high and weighed 1840T. Some cranes had to be moved around 4km to be repositioned.
Project Manager, Willem Ditmer says, "Our crew of six and our reliable SPMTs worked together with the ECT team relentlessly for long days moving around the long quay side of ECT to successfully complete the relocation of the quay cranes."
Projectmanager ECT, Robert Stein says, " At the last moment, we decided to add an extra five crane transportations to the five already planned, in about the same time frame. We really appreciatie the flexibility of Sarens to make this all happen in a safe way"

Sarens' mission is to be the reference point in crane rental services, heavy lifting, and engineered transport. With state of the art equipment and value engineering, the company offers creative and intelligent solutions to today's heavy lifting and engineered transport challenges. With more than 100 entities in 65 countries operating without borders, Sarens handles small-scale to mega-scale projects. It currently employs 4,452 professionals. Safety and excellence are key drivers for Sarens and the company strives daily to establish a safe space for everyone and everything related to its operations. Sarens has been the market leader for over 60 years; over four Sarens family generations are intimately involved in the business. Sarens continues to build the future on the foundations of its rich past and ensures that its clients will always stay ahead of the game when it comes to heavy lifting and engineered transport innovation.