Sarens has deployed a 750-tonne capacity LR1750 crawler crane around a congested project site in Jeddah, Saudi Arabia, to lift trusses for the construction of the Four Seasons hotel.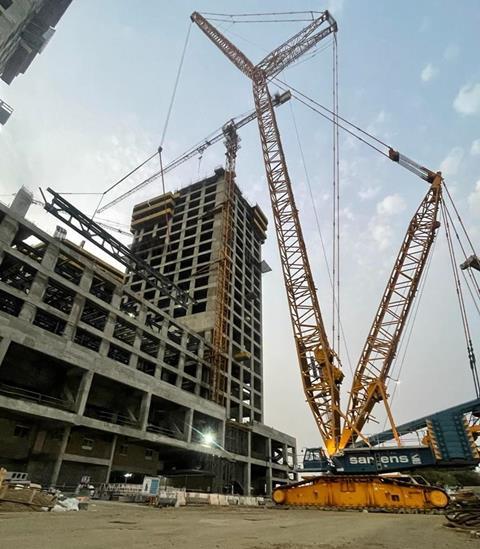 The work was completed on behalf of Al-Hashemiah Contracting Company. A total of 35 trailers drove the crane across 1,400 km of road, a five-day journey that required special permits. Six crew members then assembled (and later disassembled) the crane, which remained on site for six weeks.
To perform each lift, the crane had to park in the middle of the road, which required road closure permits from assembly through full disassembly. The trusses themselves weighed up to 63.5 tonnes and were lifting to heights ranging from 30-90 m.
"The Four Seasons project was quite interesting," said Sarens project engineer Shuaib Kadhem. "The site was very congested for a big crane like the LR1750, so the team had to communicate closely throughout the entire operation. The challenging part was the rigging arrangement: we had four lifting points with an eccentric centre of gravity, which meant the use of a spreader was not an option."