A GBP420 million (USD514 million) expansion of Scotland's port of Aberdeen was officially opened on September 22.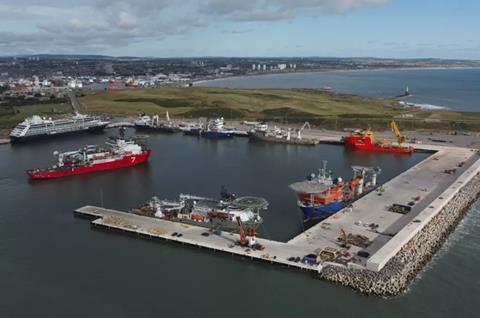 The new facility, next to the Energy Transition Zone, can accommodate vessels up to 300 m in length and has an additional 1.5 km of deepwater berthing, to a maximum depth of 15 m. A number of heavy lift pads have also been added, said the port.
At the peak of construction, there were 300 people working onsite and more than 30 companies from across north-eastern Scotland were involved in the construction of Aberdeen South Harbour. The port said that the new harbour has generated more than GBP3 million (USD3.7 million) of revenue during its phased opening and is attracting vessels and projects that would have previously sailed past the city, often destined for a European port.
Scotland's deputy first minister, Shona Robison said of the development: "As the largest new marine infrastructure project in the UK, port of Aberdeen's South Harbour will have a huge positive impact on the North East of Scotland and will be a national asset of strategic significance to Scotland. The port of Aberdeen is at the forefront of the vital transition to net zero. It will be key to helping pivot our economy towards new decarbonised technologies and fuels, not least in facilitating the growth in offshore wind and developing tidal wave research."