Amasus Shipping has signed an agreement with bound4blue to power the EEMS Traveller general cargo vessel with two 17 m-high eSAILs.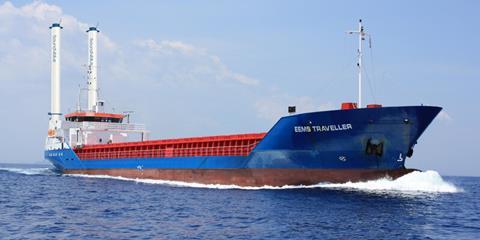 The sails will be fitted onto the vessel during 2022 and are expected to reduce the 2,850 dwt ship's fuel costs and annual CO2 emissions by up to 30 percent on favourable trade routes. The installation will also reduce the vessel's Energy Efficiency Existing Ship Index (EEXI) and improve the Carbon Intensity Indicator (CII), further extending its compliance with the IMO measures aimed at reducing the carbon intensity of international shipping.
A similar unit was installed by bound4blue in December 2021 on the vessel La Naumon and was the largest suction sail ever built and installed on a ship, said Amasus.
José Miguel Bermúdez, ceo of bound4blue, said: "Our eSAIL is a commercially available, proven and reliable technology that turns wind into profit while reducing the carbon footprint of ships. Collaborating with Amasus Shipping team in this multiple sail installation is an opportunity to show again that general cargo ships, which account for roughly 27 percent of the world merchant fleet, can benefit from our wind propulsion system."