Belgian logistics services provider Aprojects has started building a logistics centre next to terminal operator PSA Breakbulk at quay 410 in Antwerp.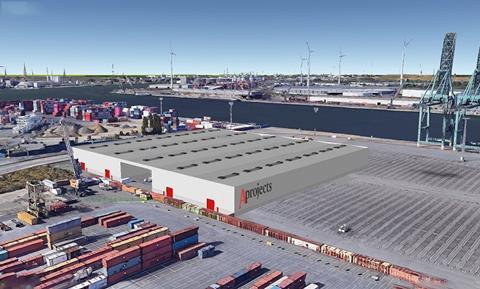 "By building a new logistics platform next to PSA Breakbulk's terminal, we want to offer a 'one-stop-shop logistics concept' for our customers," said Eric Clonen, chief commercial officer at Aprojects. "Goods and installations from our international customers, mainly industry players in Europe, continue their journey from Antwerp to new and innovative applications."
The site includes two separate 8,000 sq m warehouses, which will be connected by a canopy spanning some 4,000 sq m. The site will be used, among other things, to support the construction of petrochemical plants at the port of Antwerp-Bruges.
In addition, the entire supply chain of green hydrogen producer PLUG, which is also taking up residence at the NextGen site in the port of Antwerp, will be shipped via the new site from Aprojects' international locations. Components for its European network of green hydrogen production, as well as components for a CO2-neutral transport solution called Hyvia, will be supplied from Aprojects' warehouses in the USA and China.
This intermodal location will allow Aprojects to benefit from the assets of the port and the connections to European industrial clusters through direct maritime connections, it said.
"Maximum consideration was given to ecology and sustainability in the construction and excavation work: bringing in soil via water saved 150 truckloads, which saved tonnes of CO2," Clonen added. "The roof can be fully equipped with solar panels and green areas were also built into the site. For the equipment, we are looking at options to possibly use hydrogen-powered vehicles."
The EUR10 million (USD10.6 million) development should be operational by May 2023.