Seaway 7 has awarded the port of Blyth the contract for the storage and mobilisation of inter-array cable for the Seagreen offshore wind farm.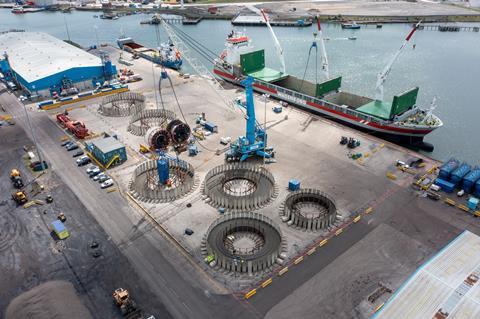 The UK-based port has already started to receive cable into quayside storage tanks, designed and built by its in-house technical team. In total, approximately 12,000 tonnes of inter-array cable will pass through the port's Battleship Wharf Terminal, prior to installation offshore across 2022.
The 1,075 MW Seagreen offshore wind farm project is located 27 km off the coast of Angus in the North Sea firth. The wind farm is a GBP3 billion (USD4.1 billion) joint venture between TotalEnergies and SSE Renewables and will be Scotland's largest and deepest offshore wind farm when complete, according to the port of Blyth.
Martin Lawlor, chief executive of the port of Blyth, said: "Clearly, we are delighted to have been selected by Seaway 7 and look forward to working with them over the course of the project, which will only enhance our reputation as one of the UK's leading offshore energy hubs. We are confident that the award will help to attract further contracts to support the sector."