Luxembourg-headquartered Cargolux has finalised an order of 10 Boeing 777-8 freighters including six options for additional aircraft, as it replaces its ageing 747-400 fleet.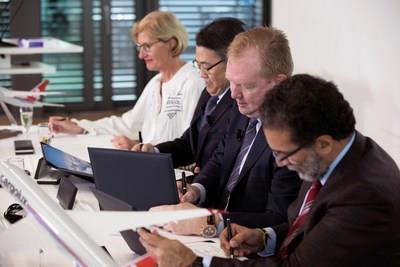 At the 2022 Farnborough Airshow, the all-cargo airline announced its intention to update its fleet by placing an order for Boeing's latest 777-8 aircraft.
Cargolux's choice of the 777-8, which offers reduced emissions and lower operational costs, highlights its commitment to sustainability.
Richard Forson, president and ceo of Cargolux, commented: "Replacing our ageing fleet of 747-400 freighters with the latest technology and fuel-efficient 777-8 freighter model will contribute to our long-term sustainability programme while continuing to offer our customers the tailored service they expect."
The order was previously listed as unidentified on Boeing's orders and deliveries website.
The 777-8 was launched in January 2022 and since then Boeing has received over 50 orders as operators begin replacing older freighters for the more fuel-efficient option.
"Cargolux has invested in a sustainable future as the 777-8 freighter will significantly reduce CO2 emissions compared to the airplane it is replacing," said Stan Deal, president and ceo of Boeing Commercial Airplanes.
"Equally important, the 777-8 freighter operates with a noise footprint up to 60 percent smaller than its predecessors, significantly minimising noise emissions around airport communities."
After 52 years in service, Boeing has ended its production of the 747s, or 'Queen of the Skies', with Atlas Air taking delivery of the last four of this aircraft type. During October 2022, the second in the series was delivered to the company, as HLPFI reported here.