Chapman Freeborn coordinated the delivery of oversized industrial cargo from Germany to Australia aboard a Boeing 747-400 freighter aircraft.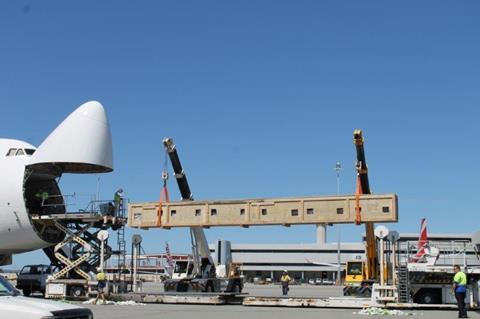 The shipment weighed 92 tons (83.5 tonnes) in total and consisted of over-dimensional units that measured 15 m in length and weighed 17 tons (15.4 tonnes) each.
Chapman Freeborn said delivering the "highly specialised" industrial cargo required exceptional professionalism and attention to detail. Prior to the loading operation, load planning was carried out to ensure centre of gravity flight efficiency. The cargo was restrained by placing straps into the crates and directly over the cargo, and both the main and lower decks were used.
Two main deck loaders and two cranes were used to load and offload the cargoes. Chapman Freeborn also oversaw the visitor permits in Australia to allow trucks to receive the cargo at the airport.
The consignment is destined for a project in Western Australia.