Ørsted and Eversource will charter Dominion Energy's Charybdis – the first Jones Act-qualified offshore wind turbine installation vessel in the USA – for the construction of two offshore wind farms.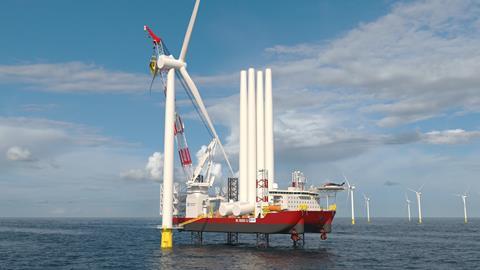 Charybdis, which is expected to be sea ready by late 2023, will first be deployed out of New London harbour to support the construction of Revolution Wind and Sunrise Wind, both under joint development by Ørsted and Eversource. Once complete, the two projects will generate more than 1.6 GW of renewable energy to Rhode Island, Connecticut and New York.
The charter's terms will allow the vessel, subject to state regulatory approval, to support construction of Dominion Energy's 2.6 GW Coastal Virginia Offshore Wind (CVOW) project off the coast of Virginia Beach, which is expected to be completed in 2026.
The approximately USD500 million vessel is being constructed in Brownsville, Texas, at Keppel AmFELS's shipyard. It is designed to handle current turbine technologies as well as next generation turbine sizes of 12 MW or larger. It will also be capable of the installation of foundations for turbines.
"Offshore wind is critical to America's clean energy future and the Charybdis plays a vital role in reaching the Biden administration's ambitious goal of 30 GW of offshore wind production by 2030," said Bob Blue, Dominion Energy's chair, president and chief executive officer. "We look forward to working with Ørsted and Eversource on the construction of Revolution Wind and Sunrise Wind to continue to grow the offshore wind industry in the USA."