CMA CGM Air Cargo and Air France-KLM Martinair Cargo – part of Air France-KLM – have officially launched their 10-year strategic partnership.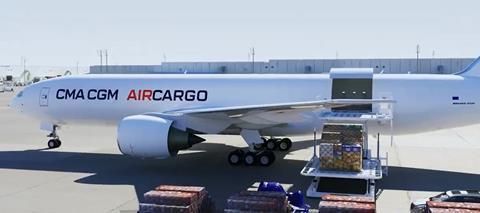 The partnership, first announced in May 2022, will see the carriers jointly operate the full-freighter aircraft capacity of their respective airlines, initially including CMA CGM's six freighter aircraft and AFKLMP's six freighters.
The commercial partnership also covers Air France-KLM's belly aircraft capacity, including more than 160 long-haul aircraft.
Air France-KLM will have facilities based at Paris-Charles de Gaulle airport and Amsterdam Airport Schiphol. There will also be a specialised service desk which will address specific requirements, including a desk for large shipments.
Customers will be able to access Air France-KLM's online booking platform, myCargo, and its digital services. CMA CGM flights are available for booking on the platform, where customers can book and combine flights operated by Air France, KLM, Martinair or CMA CGM Air Cargo.
Guillaume Lathelize, ceo of CMA CGM Air Cargo, said: "Our commercial joint venture with Air France KLM Martinair is now effective. CMA CGM Air Cargo is France's leading full-freighter airline, and operates six aircraft. The company has demonstrated its flexibility and agility with scheduled services and charter solutions for key logistics players."
CMA CGM launched its specialised airfreight division back in 2021, as HLPFI reported here.
Since then, fellow container shipping lines have also diversified their services into the airfreight business, with Maersk Air Cargo taking to the skies in April 2022 and MSC Air Cargo launching in September 2022.
Earlier this month, Maersk Air Cargo bolstered its global operations with two US-China routes, as HLPFI's sister publication Air Cargo News reported here.
The airline will operate two weekly flights between Greenville-Spartanburg International Airport and Shenyang Taoxian International Airport, and two weekly flights between Chicago Rockford International Airport and Hangzhou Xiaoshan International Airport.
Both services will be increased to three weekly flights from May 2023.