UK-based Collett & Sons has delivered an 80-tonne transformer from Goole to the Harting Rig wind farm in South Lanarkshire, Scotland, on behalf of freight forwarder Fracht UK.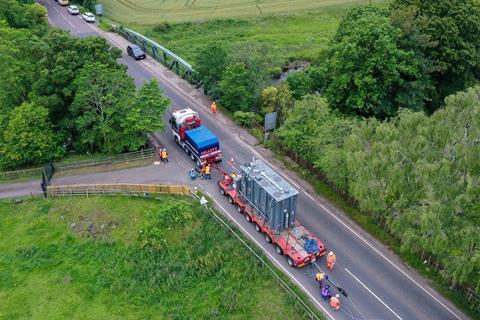 The 230-mile (370-km) route was a relatively straightforward journey, said Collett. The main challenge occurred just 3 miles (4.8 km) away from the wind farm site – the Glassford Bridge.
Weight restrictions meant that the loaded trailer and truck combination was unable to cross the structure. To overcome this, the loaded trailer was uncoupled from the 8X4 MAN TGX tractor unit. A primary ballast truck and a rear ballast unit was attached to the trailer using 40 m wire cables.
With this extended combination, and temporary traffic restrictions, the transformer was able to slowly cross the Glassford Bridge.
The wire cables were then removed and the tractor unit re-coupled for the remaining journey to the wind farm. Once on site, Collett handled the jacking and skidding of the unit into its final position.