The port of Duluth has received its final wind energy cargo shipment of 2020, marking a record-setting season for such cargoes at the port.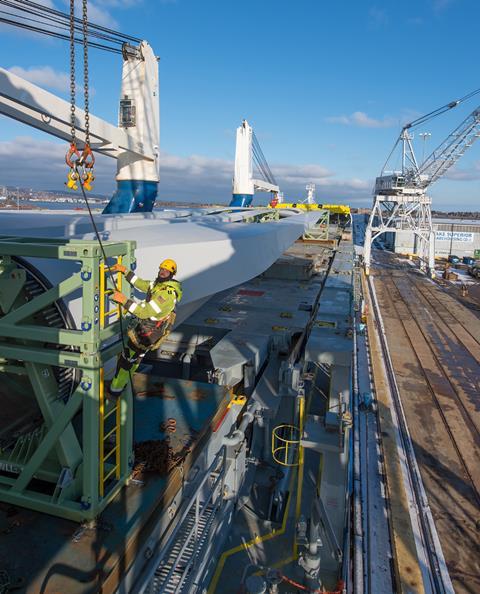 The cargoes arrived at Duluth's Clure Public Marine Terminal aboard BBC Swift. Over the course of the year, the gateway received 525,000 freight tons of wind energy cargoes, eclipsing the previous high of 306,000 freight tons set in 2019.
In 2020, some 30 ships called at the port, sailing from countries including Brazil, Germany, India, Malaysia, Mexico, South Korea, Spain, and Turkey.
73.8 m blades and 30.5 m towers were among the cargoes handled. The port said these were the longest wind energy components ever handled at its facilities. Collectively, the components will assemble 154 turbines.
Duluth Cargo Connect oversaw the unloading, storage and dispatch of the cargoes to site throughout Minnesota, North Dakota, and South Dakota.
Deb DeLuca, executive director of the Duluth Seaway Port Authority, said: "It's been a difficult year under the cloud of a global pandemic, but this freight tonnage record is a much-appreciated highlight, made even better by the fact that Duluth Cargo Connect set records in consecutive seasons.
"Looking beyond the numbers, this port's emergence as a wind cargo hub is an important win for cargo diversity and also for the expansion of renewable energy nationwide."
The port authority added that investments into additional storage space and expanded lift capacity were important factors in this year's record highs.