Istanbul-based Elkenz Maritime Logistics has added the 6,000 dwt multipurpose vessel Pera to its owned fleet.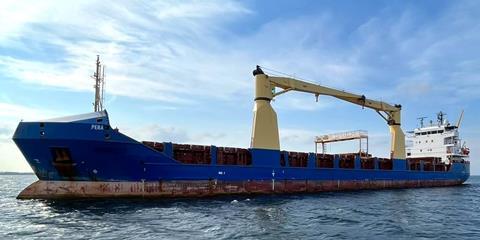 The 2008-built vessel, formerly known as Hollum, features two 60-tonne lift capacity cranes (120 tonnes in tandem), a box-shaped hold and tweendecks. Its maiden voyage will commence around September 10 from Marmara bound for the western part of the Mediterranean Sea.
Besim Buzluk of Elkenz said: "Pera is the 11th vessel in the Elkenz fleet, and our mission is to continue build a reputation with clients as a great company to partner with, who offer a focussed personal service with an experienced and enthusiastic team of people working in partnership with shippers to provide a reliable value-based service.
The carrier appointed One World Shipbrokers as its exclusive commercial agent in Germany, Netherlands, Belgium, Denmark and Poland at the end of August. Justin Archard of One World said the acquisition underlines Elkenz's commitment and ambition in the European breakbulk multipurpose tramp market. "The introduction of this new vessel will offer clients an increased opportunity to work with a company they may not be familiar with yet, but with a fleet of 11 multipurpose vessels trading in European waters, Elkenz is fast becoming a significant presence and offers clients a reliable and value based breakbulk shipping option."
Elkenz has been growing its fleet and presence in the European market in recent years. First established as a liner container service between Türkiye and Algeria, it added breakbulk tramp shipping to its portfolio in 2014.