AAL Shipping has transported a heavy lift barge from Taicang in China to Papeete, Tahiti, on its monthly Asia-Americas service.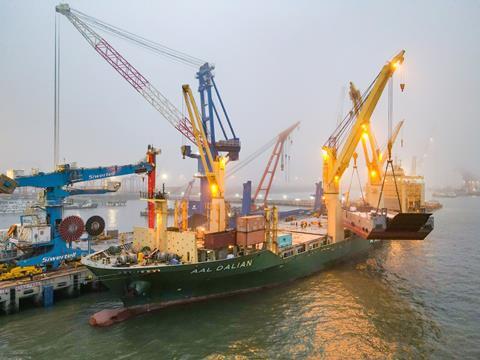 The barge weighed 410 tonnes on the hook and measured over 53 m in length. It was loaded on the 31,000 dwt AAL Dalian on behalf of Martin Bencher France.
Yahaya Sanusi, deputy head of transport engineering at AAL, said: "The barge was designed by Alwena Shipping in France and arranged to be built at the Yangzhou Hairun Shipyard, China.
"Our own planning for this heavy cargo operation started in September 2020 providing time to analyse technical details of the lift and make pre-preparation recommendations to the customer, like welding special padeyes onto the deck of the barge to facilitate safer lifting by the AAL Dalian's port-side cranes, without the need for lifting beams," Sanusi explained.
Also onboard AAL Dalian was a further 29,000 cu m of cargo, comprising large and small parcels that had been loaded in China, South Korea and Japan to be discharged along the west coast of the USA and the US Gulf.
According to Felix Schoeller, general manager of AAL, these parcels included steel pipes, containers, large tanks, cooler units and turbines, electrical equipment, and a dismantled crane. "This type of parcelling means cargoes can be transported faster and with significant economies of scale for every shipper, big or small," he said.