German container shipping line Hapag-Lloyd reported exceptionally strong results for the first nine months of year. Its outlook for full year 2022 was equally impressive, with EBITDA expected in the range of USD19.5-21.5 billion and an EBIT of USD17.5-19.5 billion.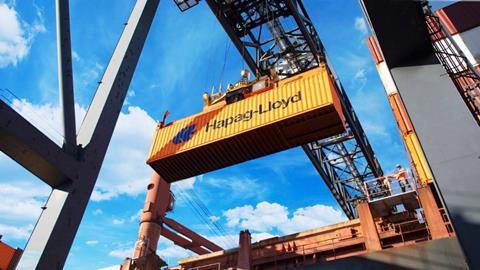 This outlook, however, could yet be affected by Russia's war in Ukraine, ongoing supply chain disruption, and the lingering effects of the pandemic.
"Thanks to higher freight rates, we have achieved an exceptionally strong nine-month result. However, we are also seeing that the market environment has deteriorated further in the third quarter. This is evident, for example, in falling spot rates and rising inflation-related unit costs," said Rolf Habben Jansen, ceo of Hapag-Lloyd.
Habben Jansen also discussed some of the headwinds facing the container shipping sector, and its plans for breakbulk and project cargo shipments, in a media briefing on November 10.
On the rate front, he noted that levels have fallen rapidly, albeit from a historically high level. "We already see that things have come down quickly, I think that is not unexpected because we come from a very high level. What I would expect is that rates may come still further down but then at some stage they will bump up again as well."
He explained that predicting rates in the short term is near impossible as it is "simply a question of supply and demand". However, when looking longer term and considering historical trends, rates are very unlikely to remain below cost level for a protracted period of time. "The cost level today compared to what it was in 2018/19 is probably 30-40 percent higher – which is still a competitive cost level on unit cost basis. The likelihood that it will stay below that in the long run is very low."
He was confident that carrier would not engage in a destructive price war, although nothing is absolutely certain. "I think the market is a little bit different and people will have learned that not making money for 10 years in a row as an industry is not good. In the end we don't invest enough in things like sustainability, we don't invest in things like the resilience of the supply chain. I think that's why also with all the investments people will still have to do to decarbonise, the likelihood that we will again go into that type of territory for an extended period of time, I would rate right now as fairly low. But none of us really know… I think the markets will settle around a level where people will make a reasonable but not excessive return on their capital employed."
Investments are also on the agenda, including those in port infrastructure, if the "right opportunities arise and we believe that we can be a better owner", he said. "I don't think we are going to invest in logistics companies or airfreight, or those type of things."
He added that Hapag-Lloyd is "very much committed to container transport and remain a conventional carrier". He also noted that having controlled access to infrastructure and key terminals is of utmost importance; looking back 20 years ago, he pointed out that many terminals were owned by carriers and many sold to other companies during the bad times.
The investments now being made by lines in this field is a return to type. "Now, when we want to deliver good quality to our customers and be more stable and robust in our network, having access into infrastructure is really important."
Hapag-Lloyd has continuously expanded its involvement in the terminal sector, most recently through agreements on acquiring stakes in the terminal business of Chile-based SM SAAM and the Italy-based Spinelli Group. In addition, Hapag-Lloyd has stakes in JadeWeserPort in Wilhelmshaven, the Container Terminal Altenwerder in Hamburg, Terminal TC3 in Tangier, and Terminal 2 in Damietta, which is currently under construction.
With rates falling rapidly, there has been much discussion of container lines blanking more sailings to support rates. Habben Jansen clarified Hapag-Lloyd's position: "So far, in fairness we have not been blanking a lot of sailings. I would say that out ships are generally well utilised. What we have seen is that some ships have slid. We had a lot of congestion here in North Europe so many ships were back late in Asia, and as such we had to skip some of the trips because we try to get the ships back into schedules.
"But to be fair, if demand is continuing to be weak then we will also take out sailings because it's simply a lot more expensive to sail two ships at 50 percent utilisation than one ship at 100 percent utilisation – don't forget that of all the cost that you incur over the sailing, 60-65 percent of it is variable cost."
The upcoming CII regulations will also have an impact on the carrier's activities when they come into 2023. "It's quite clear that because of the new CII rules there will be services where we will need to deploy more ships that we had originally anticipated, to ensure that we meet the regulations.
"The teams are still looking at the that and in the end, I think the verdict is still out whether it will absorb 5 or 10 percent of the capacity, maybe even a little more. Our estimate remains a high single-digit percentage that it absorbs, certainly initially and then we need to see how that in reality works to be able to determine what are the consequences for 2024/25 and beyond, because… the rules under the CII regime will get tighter every year."
Breakbulk and project cargoes have, traditionally, been a part of the Hapag-Lloyd cargo mix. Habben Jansen said this remains a focus and the carrier has "made some headway" in this area in the past 18 months. "We feel that longer term that is a segment where we should be able to further grow our presence and we will certainly continue to do that."