Two Huisman heavy lift mast cranes (HLMC) have been installed on Spliethoff's newbuild vessel Brouwersgracht, marking the 100th HLMC the company has delivered.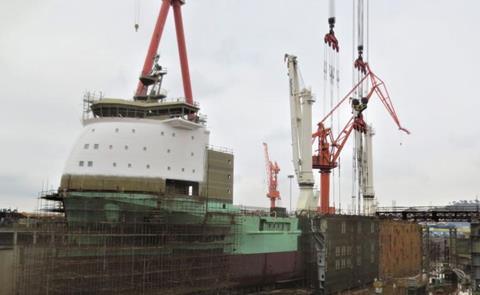 Brouwersgracht's cranes have a lifting capacity of 500 tonnes each, making the vessel suitable for both heavy lift transportation and offshore installation.
Arne Hubregtse, member of the executive board at Spliethoff Group, said: "With our newbuilding vessels Brouwersgracht and Bloemgracht we will have eight heavy lift vessels equipped with Huisman HLMCs in our fleet." The company signed contracts with China's Mawei Shipyard for the construction of the two DP2-enabled B-type vessels back in 2019.
The first Huisman HLMC was delivered to Spliethoff Group's BigLift Shipping in 1984 for its vessel Happy Buccaneer. David Roodenburg, ceo of Huisman, said: "It's a great honour to celebrate this wonderful milestone with Spliethoff and its group sister BigLift Shipping. Within 40 years, we have delivered our first HLMCs for the Happy Buccaneer and our 100th for Spliethoff's latest addition to its fleet. The fact that the Happy Buccaneer's cranes are still operational is a proof of the robust technology and extensive operational lifetime of this crane design."