Earlier this year, Vallianz Holdings contracted Scienco/FAST for the supply of its InTank ballast water treatment systems for two semi-submersible vessels. Demand for the InTank solution is on the up, owing to its particular benefits for semi-submersible operations.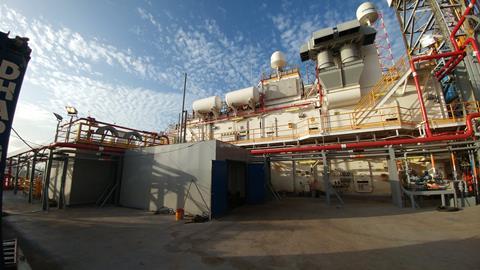 Semi-submersible vessels rely on rapid in-place flooding and deballasting to complete the very operations they have been designed to do: partially submerge. For heavy lift operations, this allows cargo to float onto the deck for transport. The filterless BWTS InTank brings operational flexibility to semi-submersible vessels as it allows the rapid in-place flood and discharge ballasting to be completed without treatment.
The InTank treats and neutralises ballast water in the ballast tanks during the voyage, which allows for normal ballasting and de-ballasting operations. It is the only type approved "in voyage" ballast water treatment system.
HLPFI spoke with Giles Candy, executive business development for InTank BWTS, about the system and the road to compliance with ballast water regulations.
He explained that the IMO and US regulations "remain deaf to the operational realities of what could be described as niche maritime operations". Calls to include exceptions for semi-submersible heavy lift operations were unanswered and these specialised vessels have to comply with the convention: only clean tanks before every in-place flood and discharge operations, or treat all ballast water, whether used for in-place ballasting, trim, transit ballasting or otherwise.
The IMO's BW Convention does list five exceptions that allow a vessel to discharge without completing treatment. The fifth exception – A-3.5 – states that the requirement to meet the ballast water management standard shall not apply if "the discharge of ballast water from a ship at the same location where the whole of the ballast water originated, provided no mixing of unmanaged ballast water from other areas has occurred. If mixing occurs, the ballast water is subject to management in accordance with the convention".
Candy said: "At first glance it seems as though this exception should apply to a heavy lift vessel. However, when reviewed with careful attention to operations and ballast tank construction it is soon understood an in-place flood and drain operation will leave much untreated ballast trapped in the tanks with no way for an in-line BWTS to go back and treat.
"It does not matter if the flood and drain is by gravity or pumped; the exception will not apply. This is a very unforgiving situation for many heavy lift operations, and until recently, there was no way around either cleaning tanks or treating all ballast waters."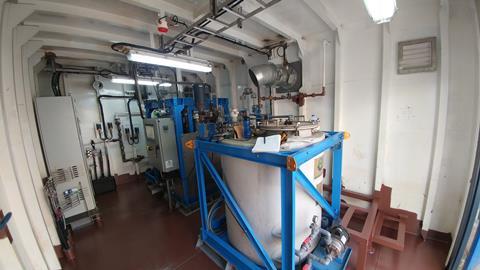 At MEPC 63 (2011) and MEPC 64 (2012), the Netherlands and Singapore submitted "Internal Circulation" BWTS (ICBWTS) as solutions for semi-submersible vessels and drill rigs. The submittals described how an ICBWTS meets A-3.5: it makes each ballast tank its own treatment event, meaning there is no untreated ballast.
This does lead to a larger control program and additional piping, but it makes two fundamental improvements regarding compliance, said Candy.
Firstly, treatment and neutralisation are recorded in the tank before discharge commences, so the vessel's technical compliance with the TA Certificate has already been recorded before discharge begins. "This is attractive for all vessels as treatment/conditioning by in-line BWTS during discharge is the source of many non-compliant BW discharges," he explained.
"Secondly, and most applicable to heavy lift operators, since the ballast tank is the 'treatment event', a semi-submersible can enter a project location with its tanks registered as treated and neutralised ready for discharge – whether partially full or not.
"Once at the project location, the vessel can flood any tank by pump or gravity, and then discharge any tank; it will not have to treat any of that water until moving to the next location.
"In the language of the exception: the water and sediments in the tanks as the vessel enters the project location have been fully managed. This fully managed water can be mixed with local water and discharged in the same location. As the vessel sails away it will have to treat those tanks again, but 'in location' operations can all be completed without treatment."
With the InTank system, a small percentage of ballast water is circulated from one ballast tank at a time. The active substance, sodium hypochlorite (NaOCl), is added to the circulation and returned to the tank. Sodium hypochlorite is produced on board by an electro-chemical cell (EC), or from bulk-chemical storage (BC). The treatment is monitored using the TRO levels in the circulated ballast. Treatment is completed during the voyage, and neutralisation is completed hours before discharge.
Indeed, Vallianz is just the latest company to opt for InTank; recently a series of seven installations were completed onboard Boskalis semi-submersible heavy lift ships.