Jumbo has delivered four reactors from Italy to Laem Chabang, Thailand using its heavy lift vessel Jumbo Kinetic.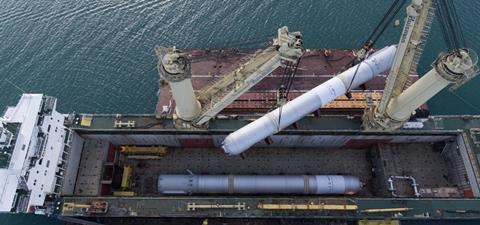 Jumbo delivered the reactors – destined for the Thai Oil clean fuel project in east Thailand – on behalf of Petrofac, Saipem, and Samsung Engineering.
The first two reactors were loaded onto Jumbo Kinetic at Walter Tosto's facility at the port of Ortona. The heaviest weighed 2,086 tonnes and measured 62 m x 8 m x 8 m. According to Jumbo, this is the heaviest reactor a K-class heavy lift vessel has lifted and surpasses the vessel's previous lifting record of 1,929 tonnes. The second reactor weighed 1,921 tonnes and measured 59 m in length and 8 m wide.
Jumbo said that to meet the 6.8 m draft restrictions in Ortona, the team lightened the vessel by removing the tween decks and pontoon hatch covers, resulting in a precise heavy lift with a shallow draft.
Jumbo Kinetic then continued sailing up the coast to Porto Maghera, where another two reactors were loaded. Weighing 1,850 tonnes and measuring 59 m x 8 m x 7 m each, the reactors were lifted from a barge and placed carefully on deck, before its onward journey to Laem Chabang.
Once in Thailand, the four reactors were unloaded directly onto extended trailers on the quayside. They will be used as part of Thai Oil's clean fuel project to produce cleaner transport fuels.
Guy Foubert, regional commercial manager, Jumbo Shipping, said: "Precise heavy lifting with a K-class vessel requires precise planning. With a busy K-class sailing schedule as well as Covid-19 restrictions and delays, we still managed to fit this project in seamlessly for our clients."