Keen Transport, Wallenius Wilhelmsen's inland logistics service provider in the USA, is upgrading its fleet of trucks, including the addition of a 13-axle heavy-duty trailer and two removable gooseneck (RGN) trailers.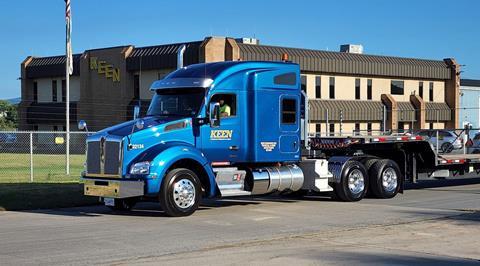 The upgrades are to ensure goods are delivered safely, efficiently and sustainably for its customers in the construction, breakbulk, agriculture and mining markets. Notably, Keen Transport is acquiring 23 new sleeper and daycab tractor units that will replace older models. These are expected to bring a 10-12 percent improvement in fuel economy.
The 13-axle trailer and 'stretch' RGN trailers are upgraded on Keen's existing equipment. The 13-axle vehicle has an increased capacity of 83 tons (75.3 tonnes) – up from 75 tons (68 tonnes) – and comes equipped with beam decks for large construction and mining equipment.
The stretch RGN trailers can also be used as regular RGN trailers, either two or three-axled, said Keen Transport. These are capable of carrying products up to 70,000 lbs (32 tonnes).
By adding these two new trailers, Keen Transport said it is opening the potential of working with new industries such as aerospace, for instance.
"Our diverse fleet of tractors and trailers has allowed us to provide customised solutions for all sorts of construction, mining and agricultural equipment," said Steve Bourne, senior manager of transportation at Keen Transport. "By upgrading and improving on them, we are providing better services for existing customers and attracting new ones."
He added: "Upgrades to the fleet routinely are part of our normal replacement cycle and ensure we can continue to provide quality service. It also enables us to maximise our utilisation of each model while allowing us to stay current with latest and emerging technologies that impact performance, drivability, sustainability and driver comfort."