One World Shipbrokers' ninth edition of its market sentiment index (MSI) recorded its first rise in a year – up from 53.1 to 53.8.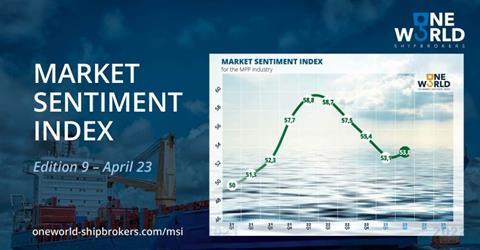 According to the April MSI, sentiment improved for all inputs that comprise the index, but this is tempered by ongoing caution in the shorter term and the upcoming summer period, which is notoriously hard to predict.

"Whilst carriers believe recent falls in activity and freight rates have now stabilised, pressure remains high in general breakbulk where vessels are running closer to spot than at any time since late 2021," said One World Shipbrokers.

"Carriers are reporting that freight rates ex-Asia are currently especially variable in response to what is described as confusing local signals, which is reflected in lower short-term confidence than in other markets."
Longer term, the index is forecast to rise based on expectations of a broad-based recovery remaining intact. Major projects in both renewables and oil and gas throughout the world are set to substantially increase multipurpose demand and tighten supply, especially for the heavier lifting vessels.
USA-based carriers, One World Shipbrokers continued, appear demonstrably more confident in the longer term than elsewhere underpinned by a slew of new projects slated to begin later this year.

With no new newbuilding orders reported in the deepsea multipurpose segment this quarter or deliveries scheduled that will add any meaningful capacity to the world fleet, demolition activity is unsurprisingly low. Yet with an average vessel age of over 15 years and the impact of new and upcoming emission regulations set to add surcharges to the less efficient older vessels, carriers note there is uncertainty about the impact its introduction will bring – especially in Europe.

"Fleet supply readings this quarter show a marginal tip towards shippers. But the outlook for later this year is that this will reverse towards carriers," added One World Shipbrokers.