While multipurpose vessel rates are expected to soften through 2023, the rate of decline is expected to be less than in competing sectors such as containerships and handysize dry bulk carriers, according to the latest forecasts from Drewry.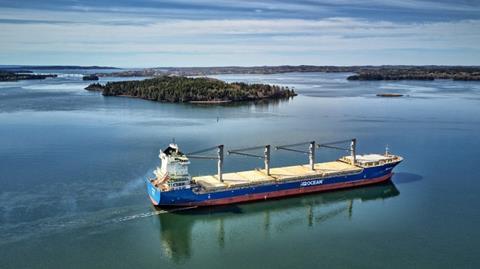 2022 started with charter rates in all three main dry cargo sectors at unprecedently high levels, peaking in the first quarter. At that point containership rates were 900 percent higher than 2Q20 (the lowest point in the market over recent years), bulk carrier charter rates were 200 percent higher, and multipurpose rates up almost 150 percent.
However, from that the peak, charter rates in the container shipping sector lost almost 80 percent of their value to end November 2022, while handysize rates fell by 50 percent. The multipurpose sector is in a much stronger position, particularly for the most capable ships, with long-term charter rates down just 10 percent from their peak.
For much of the year, the multipurpose sector continued to benefit from spill over cargo that was a by-product of widespread supply chain disruption, said Drewry. As those issues have unwound, project cargoes (from both the renewables and the oil and gas sectors) have underpinned the loss in demand.
Peak charter rates last year meant that demolition rates in the multipurpose sector were, unsurprisingly, extremely low. For the first time in years, the total multipurpose fleet recorded growth last year and is likely to do so again in 2023. "However, even so, given the impending IMO regulations on emissions and carbon reductions, we had expected a few more vessels to head to the beaches," said Drewry.
The analyst expects demolition rates to rise through 2023 back to pre-pandemic levels, on weaker earnings and increasing costs of looming emission regulations. However, most vessel candidates will be smaller craft at less than 10,000 dwt and not heavy lift capable.
The majority of newbuilding orders are for the larger, heavy lift capable vessels. "The net effect will be fleet growth of 1.2 percent in 2023 but the non-heavy lift fleet will effectively stagnate, while the heavy lift capable vessels are expected to see a rise of 2.5 percent in deadweight terms," it said.
Modest fleet growth and rising competition for breakbulk and project cargo in the face of a weakening global economy will depress multipurpose charter rates through 2023, according to Drewry. However, the decline in rates will be less marked than anticipated for the competing sectors of containerships and dry bulk carriers.
The Drewry Multipurpose Time Charter Index remained flat in December 2022, at USD9,946 per day. This was slightly above its forecast amidst the general trend of decreasing day rates in recent months.
Going forward, Drewry believes that the decline in rates will be gradual as project cargo demand will provide support in the backdrop. Cargoes that are well suited for multipurpose vessels, such as wind turbine components, will provide employment opportunities in the sector. Nevertheless, the charter market will be under pressure at the beginning of 2023, with the index declining marginally by 0.5 percent in January, reaching USD9,896 per day. This would represent a drop of around 10 percent since January 2022, but still remains some 52 percent above January 2021.